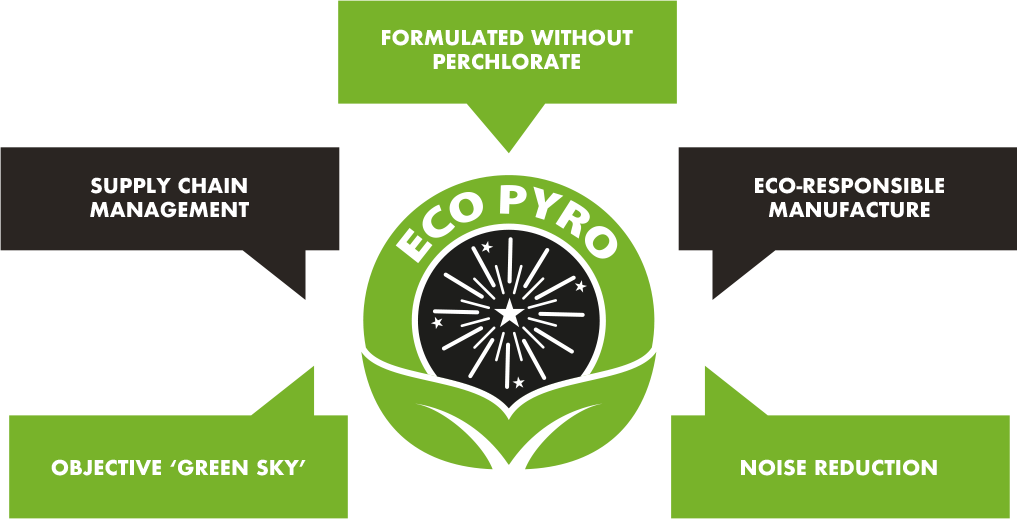 We are the first company in Canada to market perchlorate-free fireworks ensuring the highest ecological guarantee in the industry. Our fireworks comply with the list of products approved by Natural Resources Canada.
Eco-friendly

manufacturing
Our fireworks are made from recycled and decomposable paper containing fewer internal tubes. They are getting smaller and smaller and use less paper.
In an effort to respect the sound environment, we have managed to reduce the noise level of our products below the maximum acceptable standard of 140 decibels.
Our goal is that a minimum of 25% of our products be «ECO PYRO» within the next 3 years.
Transport : We make sure to optimize the transport routes from our suppliers to our facilities as well as to our customers. In addition we maximize the space used in magazines.
Packaging : Consolidating our shipments is one of our priorities. The constant reduction in the size of our products allows us to reduce the size of the packaging we send to our customers. We are aware of the importance of keeping our stock and the consignment of our products to the strict minimum.